We are 30 years young and over that period of time the majority of our enrollments have come from referrals made by our wonderful families.
Here are some of the great things that they have shared.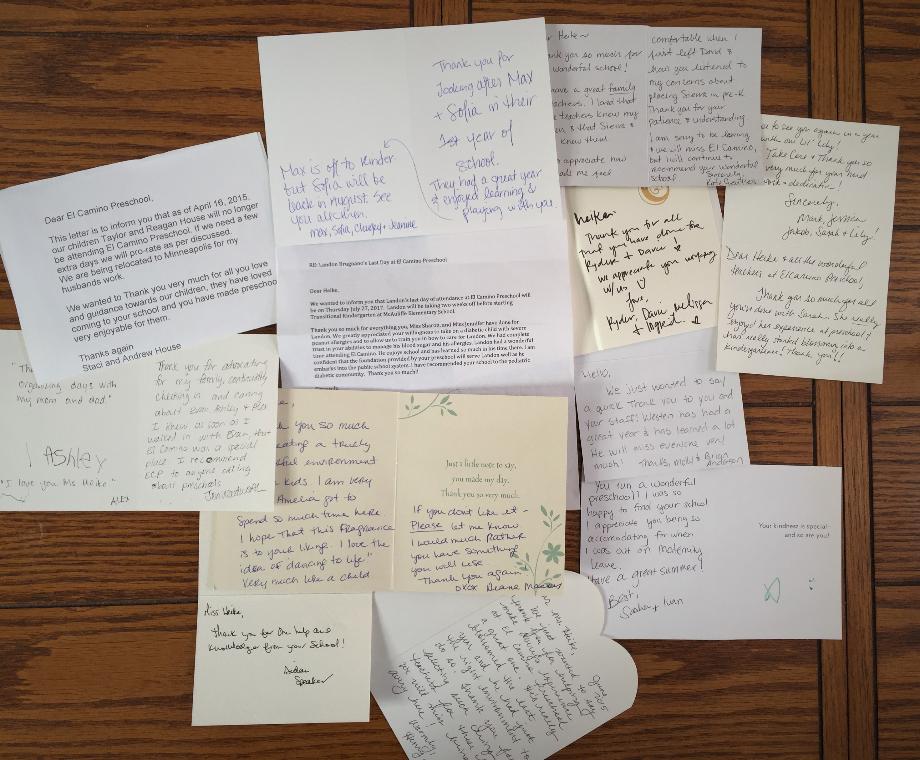 Hi Heike,
We have thoroughly enjoyed our time at El Camino Preschool. Brooklyn loves going to see her teachers everyday and we have seen her vocabulary grow tremendously! We contribute that to the good work that you guys are doing there. Thus far, we have not had any reservations about her time at your school. We have highly recommended the culture and community that your school fosters. We appreciate the Harvest Festival, Parent Night Out, family outreach, newsletters and LOVE the daily updates. Brooklyn has particularly become very fond of Ms.Dahlia and has often talked about her at home. We are trying to work on ways to help her communicate and regulate her emotions at home and have appreciated the support you are offering at school with this. If we have had any questions or concerns, we have always felt comfortable to address them with her teachers. We will keep you posted if anything comes up, but thus far, we love El Camino and deeply appreciate all your hard work and loving environment.
All the best,
Cawkwell family
Ashlen B - Rating 5 Stars- Yelp

My family loves this preschool!! My two sisters and I went to this preschool thirty years ago and I've always said as soon as my son was old enough I wanted him to go here. My boyfriend and I enrolled our son about six months ago and have had nothing short of a great experience. The preschool is just as I remembered with a few upgrades. It's very clean, safe and spacious. The staff is super friendly and attentive. They have a huge play yard where the kids can run around and use up all of their energy. By the time I pick up my son he's ready for a nap! We've already extended the amount of days he attends because we know it's in his best interest to be around other friendly kids and we can see the progress he's made with talking and sharing. I highly recommend El Camino Preschool for anyone looking for that first school experience.
Danial W. - Rating 5 Stars- Yelp
We're super happy here. All the staff members are great! And the director, Heike, is awesome with our little girl. They've been implementing a lot of new tech that compliments the home like environment. Grateful that our little nugget has a place to learn, play, and just be a kid. You won't find a more unique facility, and hard pressed to find a better staff. Relieved to have a place for our newest addition too - arriving soon.
Shannon C - Rating 5 Stars- Yelp
I can't say enough good things about this school. Heike has been so amazing with getting us set up and we had to take my daughter out of school for a few months due to my own health issues. She got my daughter back in right away and we left off right where we started. My daughter is shy and at first had a really hard time with drop off as she had never really been away from me. All the teachers in the morning helped calm her down and now she doesn't cry any more. Ms Alycia(not sure on the spelling) is always there in the morning and takes my daughter to the window to wave bye to me which makes it a tear-less drop off. Ms Tupu and Ms Liz are amazing and always give me an update and make me feel so good about leaving my daughter here while I'm at work. I love the "old home" feeling to it. The classrooms are big, outside area is huge with so much room for them to play and explore, and it's always been clean and well kept. I can honestly say that there's nothing I've seen, heard or experienced here that was any sort of negative. I've come by at random times during the day to pick up early etc and never had an issue. They also have lots of fun activities that the parents are welcome to join. I'd give 10 stars if I could! Thanks staff for all your hard work!
Jenny Cortes - Rating 5 Stars - Google review Jan 8, 2017

Taking my son here feels like taking him to a family - member's house. I couldn't be happier. It feels good to be able to go to work and not wonder if he's having a good time. The teachers there are genuinely caring and I've seen my son's development blossom with the style of programming they use that incorporates both learning and letting kids be kids at the same time. Highly recommend!
I love this place because they love my daughter. Bottom line.
The "old house" vibe is actually what sold us. We moved down From L.A. in June and didn't realize how sterile our daughters previous school was until we came to El Camino. It's the perfect little beach/country atmosphere we were looking for. We wanted her to be able to roll in the grass and climb and run like a real kid, not some hot house orchid. She's never sick here as opposed to the plethora of ailments that were always floating around her last school.
The teachers never seem stressed or disconnected. There's a lot of love here. My daughter is well taken care of. If she has a scrape or a splinter or is running a little hot, the teachers are on it. The communication is wonderful and the overall feeling is very carefree.
All the parents are super normal and friendly... I love coming here every day. I'm a worrier and it's a great relief to not have to obsess about my sweet little girls safety and happiness.
Both of my sons went to El Camino Preschool, and we had a great experience. The teachers are wonderful, attentive and clearly care about the children and their welfare. They teach a lot of independence, and respect of their peers. At the pre-school age, social maturity and independence is much more important than academics (in my opinion), so it's great that they stress those aspects of learning.

We loved the atmosphere...homey, warm layout of the building, and the spacious play areas.

The Pre-K class with Ms. Sharon is the class that both of my kids attended where they "took off" in their growth. She did a wonderful job with my boys and had them totally prepared for Kindergarten. Every day, both of my sons would come home from school talking about what a great day they had...never a bad day.

We couldn't ask for anything more.



Nicole M - Rating 5 Stars- Yelp
I'm a huge fan of El Camino preschool. My son is in the 2 year old room and I couldn't be happier with his experience so far. He's had separation problems and a teacher is always there to comfort and help distract him when I leave.
They have a huge outside area, where the kids can use their imagination and play. The past few weeks my son has been singing the ABC's and can make it all the way through now and he isn't even 2 1/2 yet. They seem to make the learning fun and also cater to what the child likes. My son likes to paint and sure enough almost everyday he has a new picture for me. Seems like with some structure they let the children really explore their interests.

The commenter speaking about the bathroom line didn't get the full picture since she was just visiting. I've picked up my child and he was waiting in a chair, not on the bathroom floor to be changed. I suspect the children the mother viewed weren't listening and were being stubborn.
Overall very happy so far!
This preschool is an awesome place to work at! I love coming to work and seeing my children eager to learn and have fun. Every child is unique and wonderful to build a relationship with. The owner is always being generous to the teacher's and she always encourages me and builds me up to be a better teacher. Most of all I love the parents they are always so thankful and kind. :)



There are a wide range, and enough for everyone, of toys, books, puzzles, bikes, etc.
Each teacher is great with communicating to the children.
They were also willing to work with him regarding potty time...although he is fully trained..he needs help from time to time.
My son has expressed, every day, how happy he is there and I can't express enough how comforting it is to know that he is safe and having fun.
I give El Camino 5 stars
Best preschool. It was recommended to me via a friend who's very picky with her kids, and likewise I was apprehensive to my kids being outside my own care. This preschool has the most caring staff and a wholesome and down to earth atmosphere. I moved from the area and now have my children at another private preschool, but I dearly miss El Camino Preschool. There is such kindness and patience demonstrated, and creativity is certainly nurtured. I LOVED the playground, as did my kids, but hands down it was the teachers and director who really made the place what it is. Simply put, a blessing.
My kids have been going to El Camino Preschool full time since they were two and they love it. My daughter is in the 3-4 year old class now and is learning letters, letter sounds and even tries to write basic words. All the teachers make her feel welcome and know her name. A gymnastics teacher and a soccer coach come once a week if you choose to enroll in those programs. I love the fact that the school is an old farm house and has a nice homey feel about it. They have a ton of activities, toys, pets and outdoor space to run around. The kids there are very nice. There are things I could critique but the bottom line is that my kids like it there. I can't ask for anything better than that and I can't imagine going anywhere else!




We love this preschool. Owner is very educated & involved. The curriculum is very age appropriate. The playground is very large with lots of fun activities for the kids to do. My son is doing well there and pride of good ownership is evident in the staff because they always are upbeat and engaged.
Amber T - Oceanside



I visited 8 preschools in the Carlsbad area and this one was the best one! I love the director, teachers and the program. Its a "High Reach" program. They do take 2 yr olds not potty trained and work with them. That is a huge plus. The kids there all seem to be clean and happy. The program is also very affordable. I have been recommending this school to my friends.
Parent on GREAT SCHOOLS .org!

Posted August 16, 2011
- a
parent
This school ROCKS! It came highly recommended from several parents who have had a combined 7 children attend this school and I can see why they love it. My son has a speech delay and straight away his teacher made me feel at home, safe and comforted that he is in the right place. I can leave him each day knowing he's being supported in every way. Finally, a school that actually cares about the child's well being! Thank you Heike for giving Oceanside such a wonderful little "home" to nourish our children's minds and souls!